DON HARRIS Known at CONDOR as Jan
Married to Mavis. Children: Dixon aged 40, Duncan aged 37, Tracey aged 36 & Dominic aged 34
Now living in Banbury, Oxon.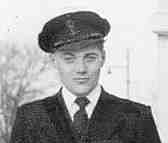 AT CONDOR from 1950 to 1953.
LEFT RN in 1963.

RN CAREER
HMS THESEUS - RNAS Anthorn - RAF Watton - RNAS Culdrose - HMS VICTORIOUS - RNAS Lee-on-Solent - RNAS Brawdy

NOTEWORTHY EVENTS
"1953 - HMS THESEUS: Cartilage locked up in knee and I spent 6 weeks in RNH Bighi, Malta.
1961 - HMS VICTORIOUS: Earthquake relief in Cyprus & Turkey."

POST-RN CAREER
Tech. Officer with P.S.A Civil Service. Mainly at RAF Upper Heyford with U.S.A.F.

HOBBIES & PASTIMES
"Model engineering - collecting & overhauling vintage stationary engines - brass band playing & cycling. I manage to keep fairly fit, mentally and physically, and I am a Daily Telegraph crossword buff."